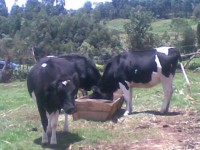 Our programs are designed to make measurable and sustainable improvements in farming production and resource utilization through instruction and skills improvement in growing, processing and marketing practices. At Global Integrated Innovations we believe when farmers improve their harvests, they pull themselves out of poverty and they also start producing surplus food for their neighbors. When farmers prosper, they eradicate poverty and hunger in their communities.
We provide direct technical assistance to farmers through field extension agents, who live and work in communities to promote changes in attitudes and systems, while enhancing clients' skills in agriculture. Global Integrated Innovations does not simply give rural farmers new tools; we empower rural farmers with the skills needed to generate increased production and profit and to promoting respect for the environment as they improve the quality of life for the community as a whole.
Our current projects include
The "COPPEA" Project
Cowpea (AKA black-eyed pea) is a high-protein superfood, well-suited to growing in even the dry, poor soil conditions of sub-Saharan Africa. However, cowpea seeds are not currently widely consumed in the East-African region, due to flatulence it causes. This project aims at addressing this problem by adapting improved food engineering techniques to reduce flatulence in cowpea by-products and develop nutritious value added cowpea products such as cowpea-based hummus and flour. These products will be tested, with product promotion through social groups, retail outlets and other avenues.